How to brew with an Aeropress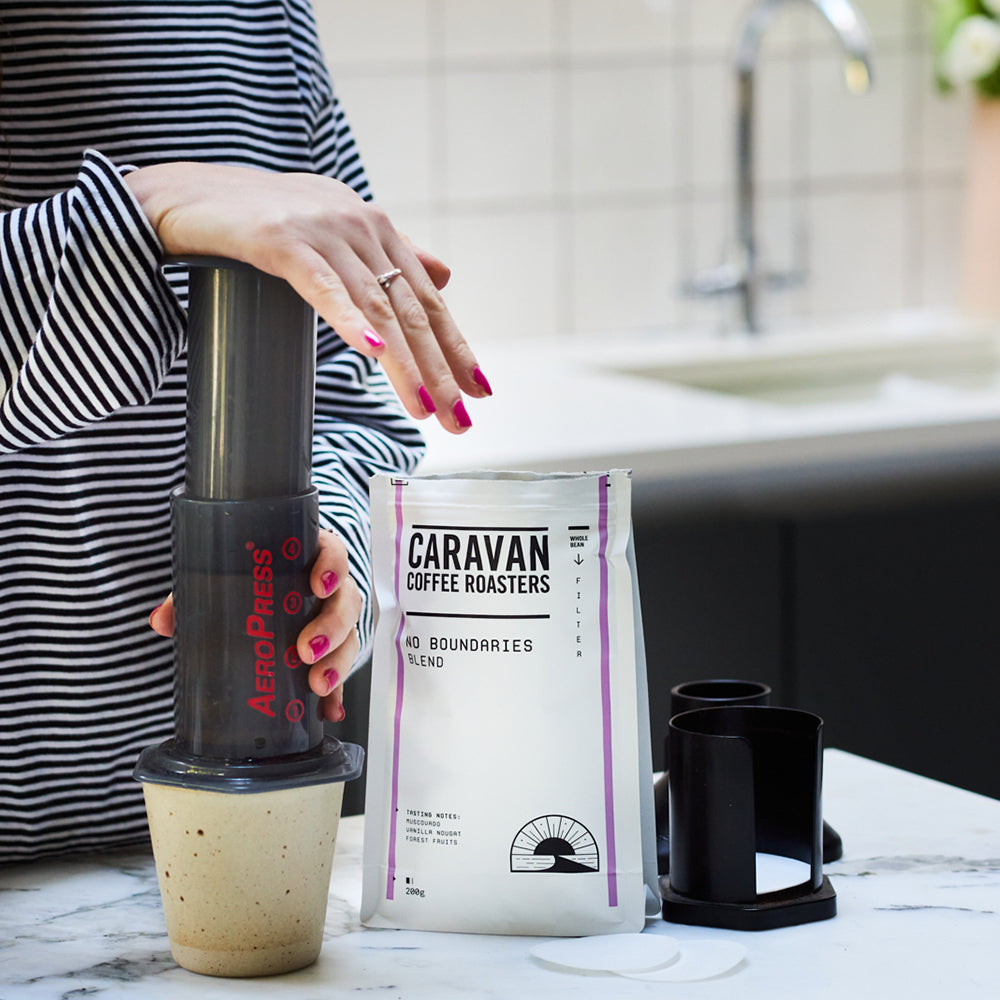 WHAT IS AN AEROPRESS? 
AN AEROPRESS IS A SMALLER IMMERSION BREWER.
THIS HIGHLY PORTABLE PLASTIC BREWER IS PERFECT FOR BREWING IN THE WILD WHILE CAMPING, AT A FESTIVAL, OR, AT HOME WHEN YOU WANT A GREAT BREW JUST FOR YOU.
STEP 1: PREP YOUR AEROPRESS
REMOVE THE FILTER CAP AND SET ASIDE.
INSERT THE PLUNGER TO NUMBER 4 AND INVERT THE AEROPRESS SO THE CHAMBER IS FACING UPWARDS.
STEP 2: BOIL YOUR KETTLE
You don't need a fancy kettle to brew an Aeropress. You'll want to be using water just off the boil at about 92-96°.
STEP 3: GRIND AND DOSE YOUR COFFEE
We always recommend using freshly ground coffee – put simply, it just tastes better. Pre-ground coffee starts to lose freshness immediately after being ground.
Grind your coffee to just finer than a medium grind – about the same size as cous cous.
IF YOU CAN, WEIGH YOUR GROUND COFFEE, YOU'RE LOOKING FOR 16G. PLACE THE COFFEE INTO THE CHAMBER.
STEP 4: RINSE YOUR FILTER PAPER
POP YOUR FILTER PAPER INTO THE FILTER CAP AND GIVE IT A RINSE. THIS MIGHT SEEM LIKE A FAFF BUT IF YOU DON'T DO IT, THE COFFEE WILL TASTE A BIT PAPERY.
STEP 5: BREW!
POUR WATER FROM YOUR KETTLE UNTIL IT REACHES NUMBER 1 (ABOUT 230ML OF WATER).
GIVE IT A STIR AND WAIT TWO MINS.
STEP 6: REPLACE THE FILTER CAP
SCREW THE FILTER CAP ON TIGHTLY, GRAB THE AEROPRESS AT THE TOP AND BOTTOM, AND CAREFULLY INVERT THE AEROPRESS SO THE FILTER IS NOW ON THE BOTTOM.
STEP 7: PLUNGE
PLUNGE SLOWLY TO EMPTY INTO YOUR CUP, UNTIL YOU HEAR A HISS.
STEP 8: DRINK
Drink and enjoy your brew – you earned it!
Time to get brewing!
Our recommended coffees for an Aeropress
Gala Apple, Fig Pudding, Candied Orange

Regular price

Sale price

From £9.00

Milk Chocolate
Honeycomb
Red Apple

Regular price

Sale price

From £8.00