How to brew with a Cafetiere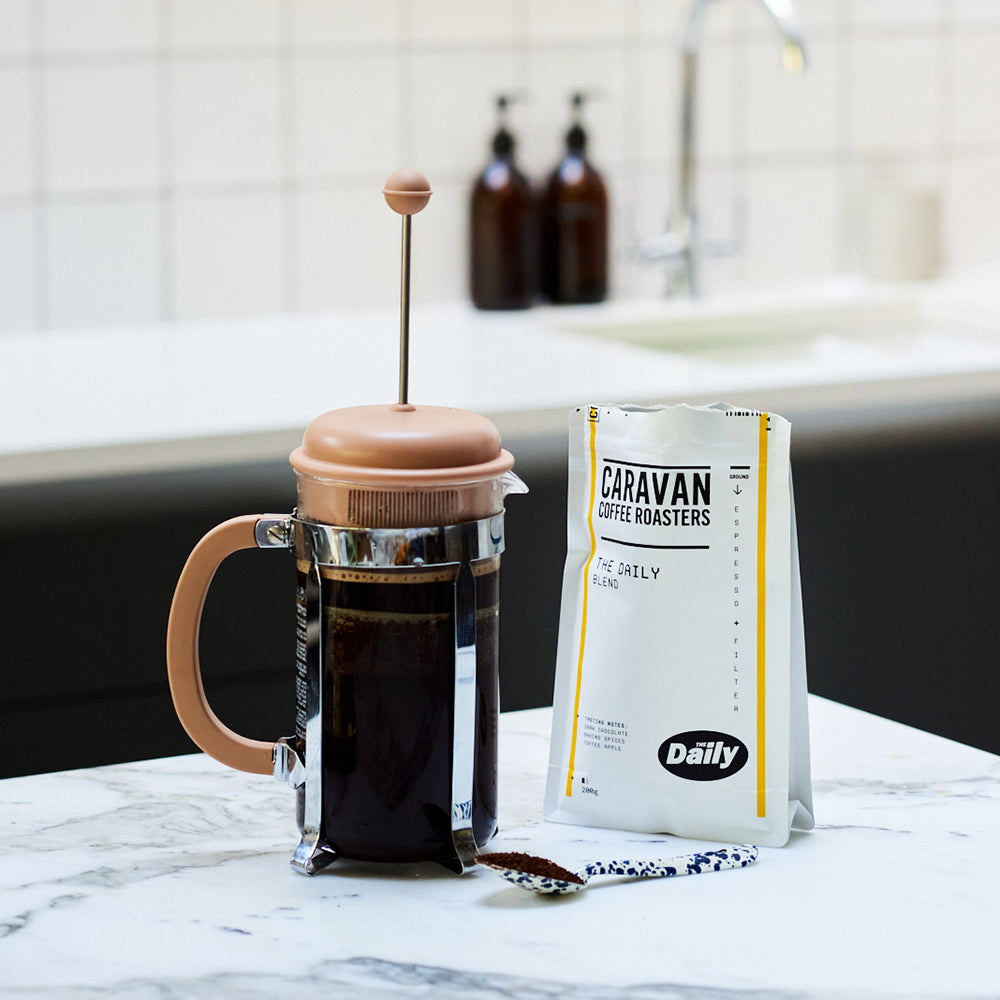 WHAT IS A CAFETIERE? 
A Cafetiere, also known as a French Press, or Plunger, is an effortless way to make 1-4 cups of filter coffee from the comfort of your home – perfect for a weekend morning, or a working from home day.
STEP 1: WEIGH YOUR COFFEE
For immersion brewing, we recommend using 64g of coffee per litre of water - 32g of coffee to 500ml water. 
STEP 2: BOIL YOUR KETTLE
You don't need a fancy kettle to brew a Cafetiere. You'll want to be using water just off the boil.
STEP 3: GRIND YOUR COFFEE
We would always recommend using freshly ground coffee – put simply, it just tastes better. Pre-ground coffee starts to lose freshness immediately after being ground.
Grind your coffee to a medium grind – about the same size a couscous.
STEP 4: BREW!
Put your ground coffee into your cafetiere and pour all your water onto the grounds. No fancy pouring technique here. Press the plunger down a bit, just enough to make sure all the coffee grounds are submerged.
STEP 5: STEEP
Let the coffee steep, i.e. wait, for at least 5 minutes. This gives the coffee enough time to extract all the delicious flavours.
Don't worry if it brews for longer – all the way up to 10 minutes, your coffee will still taste great.
STEP 6: STIR
Remove the plunger, give your coffee a stir and let it settle for a minute or two.
STEP 7: PLUNGE & POUR
Plunge! Put the plunger back in and gently press all the way to the bottom.
Pour but try not to use every last drop, leave around a centimetre of liquid at the bottom to avoid coffee grounds.
STEP 8: DRINK
Drink and enjoy your brew – you earned it!
Time to get brewing!
Our recommended coffees for a Cafetiere
Gala Apple, Fig Pudding, Candied Orange

Regular price

Sale price

From £9.00

Milk Chocolate
Honeycomb
Red Apple

Regular price

Sale price

From £8.00