How to brew with a V60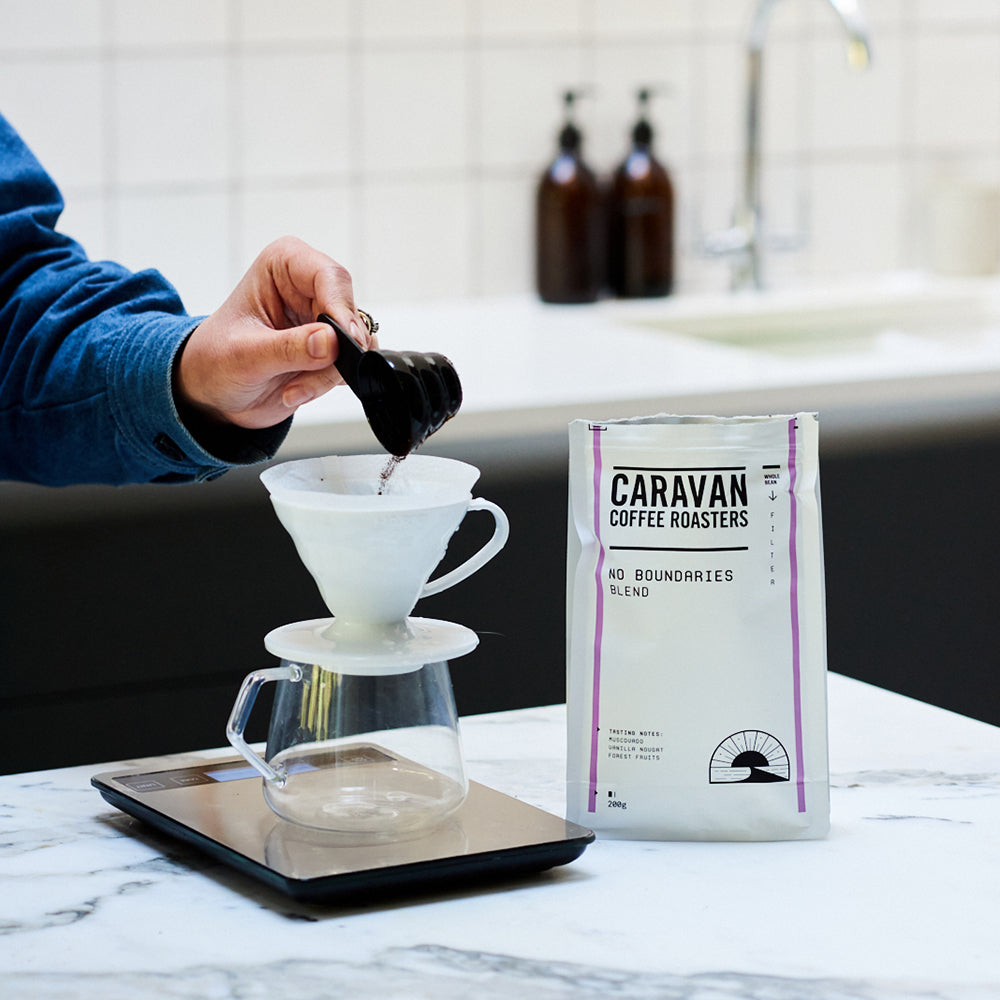 WHAT IS A V60? 
A V60 coffee maker is a must have piece of kit for your collection. It's quick, easy and makes a quality cup of coffee using the pour-over method. Not only is it easy to use, but it's also super easy to clean too. 
STEP 1: WEIGH YOUR COFFEE
With any pour over method, we recommend using 60g of freshly ground coffee per litre of water. So, if you're making coffee for one person, then go for 15g of coffee and 250ml water, if you're brewing for two then just double up.
STEP 2: BOIL YOUR KETTLE
You don't need a fancy kettle to brew a V60. Any will do, and you want to use water just off the boil (96-98c), this will make sure you get a perfectly extracted coffee.
STEP 3: GRIND YOUR COFFEE
We always recommend using freshly ground coffee – put simply, it just tastes better. Pre-ground coffee starts to lose freshness immediately after being ground. 
Grind your coffee to a medium fine grind – about the same size as table sugar.
STEP 4: RINSE YOUR FILTER
Place your filter paper into your V60 and rinse it under the hot tap. Unrinsed filter papers impart a papery taste in our coffee...and no one wants a papery coffee! 
STEP 5: BREW!
Put your coffee grounds in your V60 and start pouring, first you need to bloom / get rid of the gas inside the coffee grounds, so pour 45g of water, over the course of 15 seconds, onto your coffee grounds, making sure to saturate all of them, stir if you need to.
Leave to 'bloom' for 30 seconds – you'll see the water bubbling, this is the gas escaping!
STEP 6: POUR
After 45 seconds, start pouring the rest of your water slowly into your V60. Aim to have all your water (250ml) poured by 2 minutes 15 seconds.
STEP 7: DRAW DOWN
Your water is now extracting all the delicious aromas, acids, sugars and proteins. Aim for your coffee to finish drawing down between 3 mins and 3 mins 30 seconds. 
If you find this is too acidic, then grind your coffee a little finer for a longer brew time and more bitterness. However, if this is too bitter, then grind your coffee a little coarser, for more acidity, and a shorter brew time. 
STEP 8: DRINK
And now theres only one thing left to do, relax and enjoy a delicious cup of Caravan Coffee.
Time to get brewing!
Our recommended coffees for the V60 method
Gala Apple, Fig Pudding, Candied Orange

Regular price

Sale price

From £9.00

Milk Chocolate
Honeycomb
Red Apple

Regular price

Sale price

From £8.00